Improving the experience of Dementia and Enhancing Active Life (IDEAL)
British Society of Gerontology 47th Annual Conference 2018 at the University of Manchester, #BSG2018
IDEAL will be represented at this conference next week - if you are attending come along to one of our IDEAL talks scheduled for Friday 6 Jul 2018: 13.0014.30
Which is the best way to measure loneliness in people with dementia? A comparison of single and multi-item measures
Risking vulnerability: The precariousness of living with and caring for those with dementia
Letting go of coherence: Qualitative interviews and the challenges of representing dementia
Masterclasses in Dementia Research
June 22nd 2018
The Improving the experience of Dementia and Enhancing Active Life (IDEAL) study is pleased to announce the launch of two online masterclasses in dementia research.
Doing qualitative interviews with people with dementia and their carers/relatives: Tips, strategies and considerations
Involving people with dementia and carers in research: Recommendations from the Action on Living Well: asking you (ALWAYs) group
The two video masterclasses can be viewed here.
Research outside the NHS setting
May 28th 2018
Listen to IDEAL Co-I Dr. Catherine Quinn contribute to the podcast on conducting research in non NHS settings here
How you can support people who have dementia to live well
May 26th 2018
Many small things can make a big difference, writes IDEAL Co-I Dr Anthony Martyr - read the article here: Dementia Article May 26 2018
Do you live near York?
21st May 2018
If you live near York, please come and join us at York Train station at 12 noon on 23 May 2018 for the grand unfurling of a banner produced as part of the 'A Life More Ordinary' project. The banner's theme is the 'Right to a Grand Day Out'. It has been created by artists Ian Beesley, Ian McMillan and Tony Husband and members of three DEEP (Dementia Engagement & Empowerment Project) groups - DEEP Vibes Scarborough, York Minds and Voices and Face it Together (FIT) in Bradford.
Here's how those with dementia can live a better life - read our review of the literature
11th May 2018
Martyr A, Nelis S, Quinn C, Wu Y, Lamont R, Henderson C, et al. Living well with dementia: a systematic review and correlational meta-analysis of factors associated with quality of life, well-being, and life satisfaction in people with dementia. Psychological Medicine 2018.
Available to read here: https://doi.org/10.1017/S0033291718000405
to read a plain English summary click here, and to see an infographic that visuals describes the findings click here
Exeter exhibition for Dementia Action Week May 21-24
11th May 2018
Please come to see the 'A Life More Ordinary' Exhibition
University of Exeter, Forum 21st May (9am) to 23rd May (5pm)
Exeter Guildhall Shopping Centre 24th May (9am-5pm)
People whose lives have been affected by dementia have worked with well-known artists to create insightful images and poems that capture some of their experiences. Join us for Dementia Action Week 2018 as we exhibit some of their work.
Blog: IDEAL 'chapbooks' and positive thinking
11th May 2018
Read our blog about how the artists' 'chapbook' encourages positive thinking about dementia.
Job opportunities
Postdoctoral Research Fellows - Statistician/Epidemiologist/Quantitative Social Scientist
We are pleased to offer two outstanding opportunities for early-career researchers with exceptional statistical skills who wish to apply these skills to projects that will provide evidence to influence policy and practice in the field of ageing and dementia.

For Information on how to apply click here

Closes: 22nd May 2018
New article published
May 2018
Dualities of dementia illness narratives and their role in a narrative economies- available HERE
This article highlights the value of people's stories about what it is like to live with dementia.
There are a growing number of people, particularly those in the early stages of dementia, who are being asked to tell their stories and share their experiences about living with the condition. You can find these personal accounts represented in charitable campaigns, public policy and various forms of media; they play an important role in shaping the way in which dementia is understood, treated and cared for within institutions and amongst communities.
This paper draws on a set of interviews with people living with dementia, and their relative carers, who act as representatives of those living with dementia by advising researchers, informing service provision or talking or writing about their experience for the public.

Hillman, A., Jones, I.R., Quinn, C., Nelis, S.M., & Clare, L. Dualities of dementia illness narratives and their role in a narrative economy. Sociology of Health & Illness, 0. doi: doi:10.1111/1467-9566.12729
Day in the life of a researcher
Dr Catherine Quinn, gives us a glimpse into her work in her blog 'A day in the life of a researcher'.
IDEAL March update
March 22nd - we look forward to seeing our Project Advisory Group Members at the NCVO in London on Thursday 22nd March to discuss project plans for 2018.

We are grateful to all our members for their involvement.

Dr. Catherine Quinn will be visiting one of our research sites on March 21st to discuss IDEAL with network staff, clinicians and others at ²gether NHS Foundation Trust

There will be other sessions over the next few months - check back for more information.
IDEAL PPI group: ALWAYS
On February 6th 2018 members of our ALWAYS network (Action on Living Well: Asking You) made up of people with dementia and carers met to discuss the importance of Patient and Public Involvement (PPI) and discussed good practice for researchers.
More to follow on this but some pictures from the day below: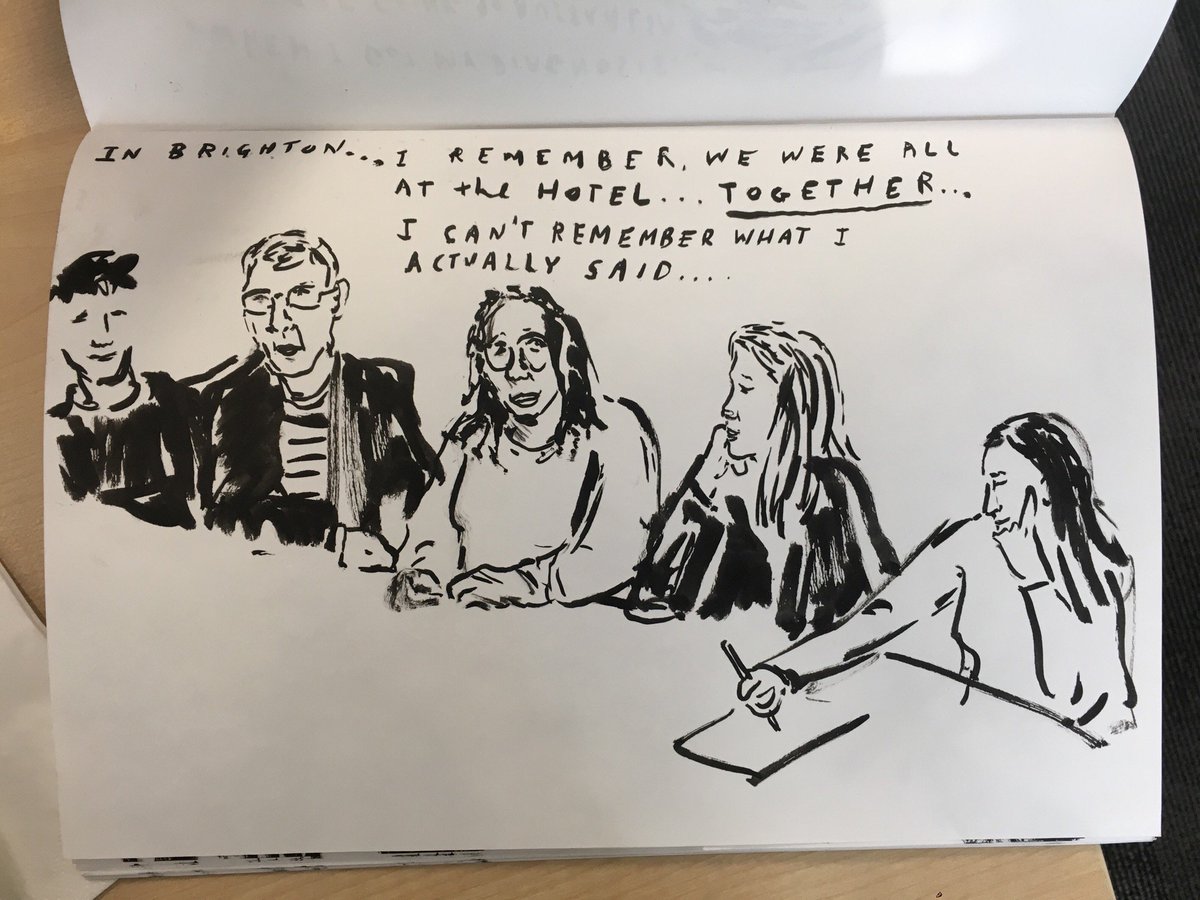 From the Negative to the Positive
January 8th 2018
'A Life More Ordinary' exhibition opens at Gallery Oldham with the launch of a new chapbook
The first exhibition produced as part of the 'A Life More Ordinary' project, linked to IDEAL, has now opened at Gallery Oldham. Ian Beesley (photographer), Tony Husband (cartoonist) and Ian McMillan (poet) held a series of workshops in Oldham with the Ragamuffins, a group of people with dementia, their partners and volunteers. Together they have produced an exhibition of images and poems created during the workshops exploring living with dementia along the theme of 'From the Negative to the Positive'. The exhibition is accompanied by a new chapbook which can be viewed for free online here (PDF, 4.6MB). 'From the Negative to the Positive' runs from 8 January 2018 until 2 February 2018 at Gallery Oldham.
Dementia research at Exeter in 2017
As a world leader in dementia research, the University of Exeter has made great strides in advancing our understanding of dementia including prevention, treatment, causes and care. As 2017 draws to a close, we take a look back at our highlights and accomplishments in the past year. #ExeterDementia
Read about our 2017 achievements here

Wishing everyone involved in IDEAL best wishes for 2018.
We look forward to exciting times ahead, including releasing IDEAL findings and to the launch of IDEAL-2.
December 2017
Successful event on 'Dementia: Personal experiences and cultural representations'
November 8th 2017
This REACH event, put on by Sharon Nelis, Catherine Quinn and Ruth Lamont, was part of the Economic and Social Research Council's Festival of Social Science (FOSS). This free FOSS event aimed to introduce the audience to some of the work done within the social sciences, like the IDEAL study which seeks to improve the day-to-day experiences of those living with dementia. Beyond this, the event aimed to get people thinking about how we view and discuss dementia, and how this might affect those living with it. The event was held at Exeter Phoenix's Studio 74 on the 7th November and included a number of introductory talks. Keith Oliver - author of Walk the Walk, Talk the Talk - opened by sharing his thoughts on living with Alzheimer's disease, being an advocate for those with dementia and taking part in research. Researcher Dr Alex Hillman then shared her thoughts on how dementia is portrayed within our culture, through film, TV, newspapers etc. Steve Milton from Innovations in Dementia - a charity working passionately to support human rights for people with dementia - then showed a clip relating to their campaign 'Dementia words matter' and opened the discussion around current representations of dementia, their helpfulness and potential for change. Thank you to everyone that spoke and attended to make the event such a success.
IDEAL linked project 'A Life More Ordinary' in the press
November 2nd 2017
As the first 'A Life More Ordinary' chapbook is launched, both BBC Spotlight and ITV West Country News have run stories on the project.
Booklet launched to share experiences of living with dementia
October 30th 2017
The 'A Life More Ordinary' project, linked to IDEAL has released the first of its 'chapbooks' on living with Dementia. This short booklet co-created by people with dementia, those supporting them and three artists (Ian Beesley, Ian McMillan and Tony Husband) shares information through photography, poetry, cartoons and quotes. You can view the first booklet for free online:
A pdf of the chapbook can be downloaded from here (PDF, 2MB)
#ESRCfestival event 'Dementia: Personal Experiences and Cultural Representations'
Register now for this event on November 7th 2017
Booking has now opened for the above event. Join us for what promises to be a dynamic, informative and thought-provoking Festival of Social Sciences event on the topic of dementia.
To read more about the event or to book to join, please go to the Exeter Phoenix webpages.
Tuesday, 7th Nov 2017 | 5-7pm | Free (but booking necessary)
Venue: Exeter Phoenix, Gandy Street, EX4 3LS, Exeter
Alzheimer's Europe conference
October 4-5th 2017
IDEAL Co-I Dr. Catherine Quinn recently presented a poster 'Adjustment and representations in dementia' at the Alzheimer's Europe in Berlin, October 2017
See the poster AE Poster October 2017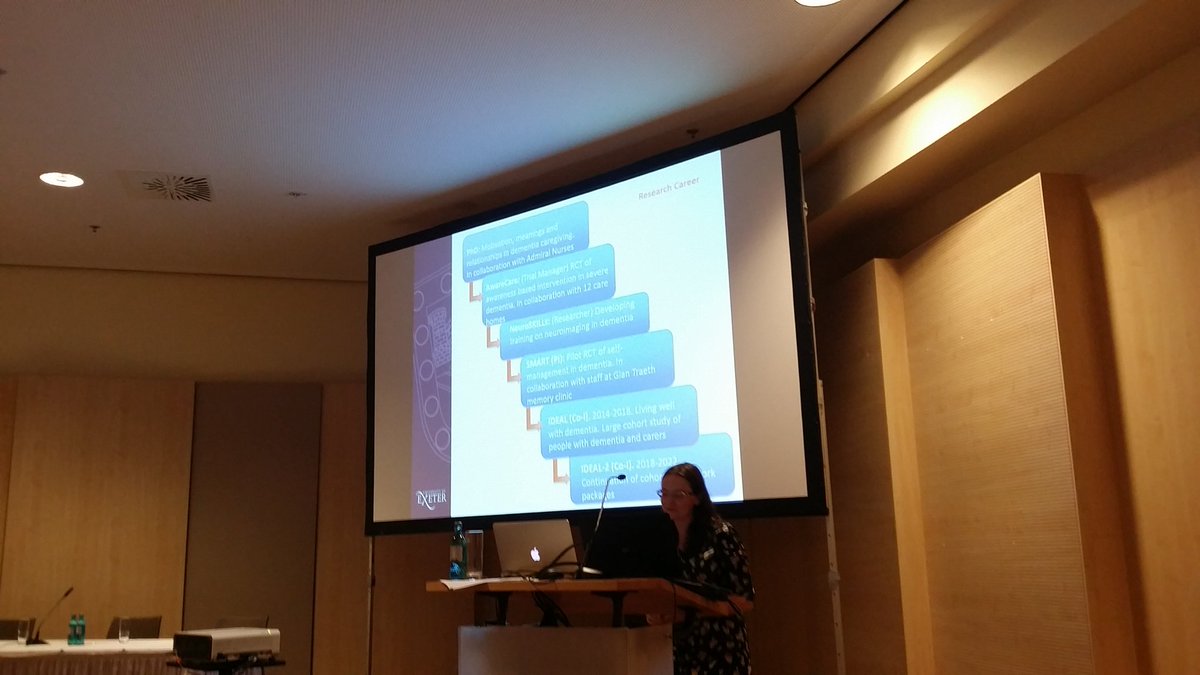 IDEAL participant on ITV news
September 21st 2017
Annie was also interviewed for ITV News - watch the interview here
As part of World Alzheimer's Day 2017 - IDEAL Participant Annie urges the public to learn about NHS dementia research
Read more here
IDEAL 12-month follow-ups complete
September 8th 2017
The second wave of data collection for IDEAL has been completed. We are pleased that so many people with dementia and carers agreed to continue in the study 12 month after their initial involvement.
Many thanks to our researchers throughout England, Scotland and Wales for completing the visits and to all those that took part.
Dementia singing group in Exeter
September 6th 2017
IDEAL Co-I Dr. Catherine Quinn discussed IDEAL research at the 'Remember that Song' Dementia Singing Group in Exeter
Find out more about this group here
IDEAL symposium at IAGG San Francisco
July 27th 2017

IDEAL co-investigator honoured for outstanding achievements in the study of ageing and society
July 6th 2017
At the British Society of Gerontology annual conference in Swansea Professor Christina Victor was honoured for her contribution to the public understanding of ageing. You can read more about the award and the research that Christina does here.
Alzheimer's Society has announced that it has committed almost £2million to the University of Exeter, as part of its biggest-ever single investment in dementia care research
June 20th 2017
Professor Linda Clare, of the University of Exeter, who leads the research programme, said: "It is vitally important that people with dementia are able to have the best quality of life possible. The Centre of Excellence will support that urgent priority, and our research will significantly improve our understanding of what factors influence the ability to live well as the disease progresses. This will help us to develop strategies and initiatives that will make a real improvement for people living dementia and their families at different stages of their condition."
The University of Exeter's research grant will fund a second phase of a large-scale national study entitled Improving the Experience of Dementia and Enhancing an Active Life (IDEAL). Running since 2014, it aims to understand how to help people to live well with dementia by taking into account the experiences of people with dementia and their carers over six years.
Read more here
'Living well with dementia has become a key focus of policy'
June 2017
Interview with IDEAL Lead Prof. Linda Clare, Professor of Clinical Psychology of Ageing and Dementia at the University of Exeter.
Click to read here
Dementia Awareness Week 2017
14th-20th May 2017
IDEAL will be represented at two Dementia Awareness Week Activities:
1). Living Well with Dementia - Wednesday May 17th 2017 London
To mark Dementia Awareness Week, we will host a seminar will focus on promoting quality of life for people with dementia and their families and carers. We will also present our interactive public engagement activities, devised to increase awareness of the challenges faced by people with dementia. The program will include a presentation on Living Well with Dementia by Professor Christina Victor, Brunel University London
To register for the event click here
2). Tinted Lens: A Festival of the Mind, Memory & Ageing - Wednesday May 17th 2017 Cardiff
Celebrate Dementia Awareness Week by joining us at our relaxed Dementia Friendly screenings, engaging theatre and drop-in craft workshops, a Virtual Reality experience, guest speakers, stalls and much more. Everyone is welcome and you'll be helping to challenge the social exclusion of people living with dementia, while also having a great time.
To find out more click here
Working family carers needed for new research study
April 2017
IDEAL PhD Student Rachel Clarke is recruiting working family carers who:
Work on a voluntarily and/or paid basis up to 10 hours a week or more;
Provide care up to 10 hours a week or more;
Provide care for a person with dementia (excluding frontotemporal dementia);
Have been a carer for at least one year
If you are interested in participating in this research and meet the above criteria, please contact Rachel Clarke: Email: rc362@sussex.ac.uk; Twitter: @rachelclarke36
Living well with dementia: implementing what we know
April 2017
IDEAL researcher Dr Alex Hillman organised this event held at Bangor University. This event was targeted at early career researchers working in the field of dementia research. Dr Catherine Quinn and Hannah Scott presented on the IDEAL Project.
Interviewing people with dementia and their caregivers
February 2017
IDEAL Co-Investigator Dr. Catherine Quinn gives some tips on working with people with dementia and carers. See: Quinn, C. (2017). Conducting interviews with people with dementia and their caregivers. SAGE research methods cases. doi: 10.4135/9781526404855.
IDEAL in-depth interviews
January 2017
Read our blog on the qualitative part of the IDEAL study: The IDEAL study: finding strategies to live well with dementia
ALWAYs group member publishes 'Walk the Walk, Talk the Talk' December 2016
Keith Oliver's latest book—'Walk the Walk, Talk the Talk'—compiles his reflections on different stages and aspects of his life, from his early teaching career in the UK, to moving his family to Australia, and from the intricacies of living well to engaging in national discussions around dementia. His own reflections are combined with the thoughts and accounts of a wide range of his 'professional friends', friends, and loved ones to form an engaging narrative of Keith's life and loves to date.
Keith has a diagnosis of young on-set Alzheimer's and his drive to shape research and policy in the area and improve experiences for those living with a dementia comes out strongly in the book. Keith's friend and colleague (as a KMPT Dementia Service User Envoy), Chris Norris, remarks that "Without doubt, the time has come for action to improve the lives of those affected with dementia. Organisations and the NHS now need to not just talk the talk but take action and walk the walk. Keith does and through his leadership and inspiration, many others now do."
‌As put by Rachael Litherland who has worked with Keith in her capacity as a co-director of Innovations in Dementia, "dementia is only one side of his [Keith's] life – and he is a great example to me, and to other people with dementia, about the need to put energies into other parts of one's life – walking on the beach, helping school children with their reading, going to the theatre or cinema, writing (and inspiring others to do so)."
‌To read more, you can get your hands on the book through the following routes:
• Soon to appear on the Alzheimer's Society online shop (all proceeds to the Alzheimer's Society)- £5 (plus p and p)
• Waterstones shops- £8 (£5 of which to the Alzheimer's Society)
• From the author at meetings and conferences- £5 (all money to Alzheimer's Society and Innovations in Dementia)
Recognition for one of the many IDEAL and GREAT research network staff September 2016
Congratulations to Alison Culverwell for her Highly Commended Award For Research #KMPTawards. Local PI for IDEAL at Kent and Medway NHS & Social Care Partnership Trust.
Dualities of dementia accounts: Biographical reconstruction and narrative economies September 2016
IDEAL Co-Is Alexandra Hillman and Ian Rees-Jones presented at the British Sociological Association's Medical Sociology Group's Annual Conference in Birmingham. https://www.britsoc.co.uk/events/medsoc
IDEAL Co-I Dr. Catherine Quinn contributes to new book on 'Positive Psychology Approaches to Dementia' August 2016
Dr. Catherine Quinn has authored a new book chapter entitled 'Positive Experiences in Dementia Caregiving' published in In C. Clarke & E. Wolverson (Eds.), Positive Psychology Approaches to Dementia (pp. 232- 252). London: Jessica Kingsley Publishers. Publication date 18th August. https://www.amazon.co.uk/Positive-Psychology-Approaches-Dementia-Clarke/dp/1849056102
IDEAL study starts the final wave of T3 data collection August 2016
For those who entered the IDEAL study in 2014 we will now commence the final phase of visits (T3 24 month follow-up). We look forward to seeing as many people as possible and we appreciate you taking time to speak with the researchers again. This phase will continue until August 2018.
IDEAL will be at the UK Dementia Congress 2016 August 2016
We will be hosting a workshop at the 11th UK Dementia Congress in Brighton. Title: What does living with dementia mean? Learning from people with dementia and carers through the IDEAL study. This event will be facilitated by our ALWAYS (Action on Living Well: Asking You) network members. Please come along and join the discussion. http://www.careinfo.org/wp-content/uploads/2016/01/2016UKDC12pp_v2sb-lo-res6.pdf
IDEAL reaches recruitment target July 2016
We are pleased to report that recruitment is now complete. We would like to express our sincere gratitude to over 1500+ individuals and their friends and family who have taken part so far. Thanks to the researchers at our various sites who have made this happen.
Need to improve public understanding of dementia June 2016
IDEAL Lead Prof. Linda Clare describes the urgent need to improve public understanding of dementia:
http://www.bps.org.uk/news/urgent-need-improve-public-understanding-dementia
Findings from the IDEAL project June 2016
Findings from the IDEAL project Better Understanding of Caregivers Perceptions of Dementia Could Improve the Level of Support They Are Offered
http://www.wiserd.ac.uk/files/6014/6886/0438/WISERD_News_June_2016_Issue_14.pdf
IDEAL participant on Panorama June 2016
BBC Panorama filmed Chris Roberts and his family over 18 months and as they try to live well with dementia. The moving and poignant documentary follows his dementia journey as he becomes more and more involved in raising awareness of dementia at national and international conferences. It also shows a brief segment where he is filmed taking part in IDEAL, where he is assessed by an IDEAL co-investigator, Dr Anthony Martyr. The full programme is available here to UK viewers for the next 12 months. A BBC webpage with clips of the show is available here.
Dementia Awareness Week May 2016
During Dementia Awareness Week 2016 Dr. Alex Hillman discussed IDEAL as part of the expert panel discussion post the screening of Away from Her.
https://www.alzheimers.org.uk/remembertheperson
IDEAL now on Twitter January 2016
The IDEAL project twitter page is now live: @IDEALStudyTweet
IDEAL Recruitment January 2016
We are pleased to report that recruitment to the project now exceeds 1,000 people with dementia. Thank you to everyone who has agreed to take part so far. We aim to finish recruitment into the project in June 2016.